For nearly two years now, the vast majority of your morning coffees have looked the same.
Link #1.
Photo.
Link #2.
Link #3.
Webcomic.
Well, today we are starting a new chapter in morning coffee history, and changing the design a bit. It means less links, yes, but will hopefully encourage me to write a bit more as part of the morning coffee. It will also mean a few more links being tweeted, most likely.
Here's what it looks like:
John Dvorak has made an interesting comparison between Facebook and AOL. The basic argument is that Facebook is little more than AOL-done-right — an online destination for people who are a little bit less than tech savvy.
It's hard to argue with the premise. The only thing I use Facebook for is to see what Facebook users are doing, and sometimes leave comments regarding their activity. Seriously. Anything you see by me on there is actually from here. Or Twitter. Or Flickr.
Still, Facebook's market share is tremendous. It's hard to see it the way I remember AOL being. I absolutely hated the AOL corner of the Internet with a passion Facebook doesn't elicit. Facebook is to connect with people that I would be unable to connect with otherwise. AOL never had anything like that.
Nevertheless, I love the comparison, and will be using it in real life as often as possible.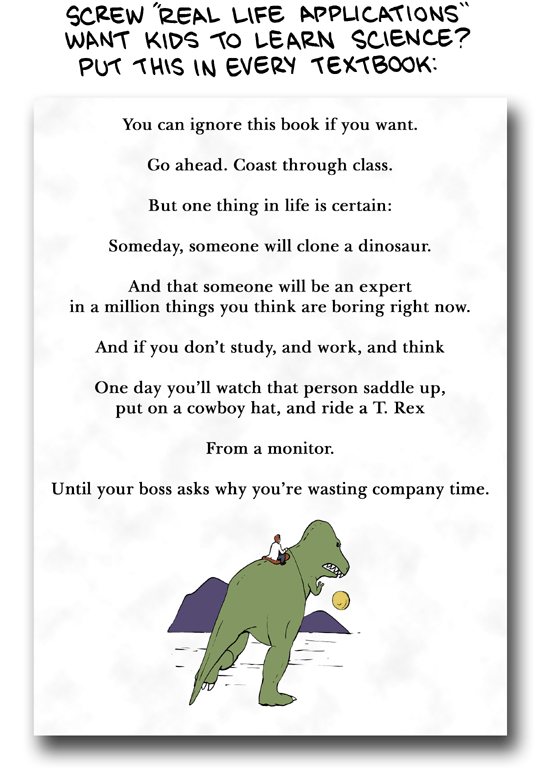 Photo: Gannets above Boreray, by Coinneach Morrison.
Webcomic: Saturday Morning Breakfast Cereal by Zach Weiner.
——-
So, internet friends … what do you think? A bit more commentary, a bit less link. It feels better to write it this way, if that's any consideration.
I also feel like I should try harder to link up the content of the image, article and webcomic in the coffee, now that there's less content. Today is very disjointed. Hopefully that will improve.